Testimonials
Good service in difficult times
Definitely worth the wait ….. good service in difficult times from knowledgeable staff. A relationship is born ! Thank you!
Mr & Mrs Revell - Pershore - June 2021
TMD is a great company
Bought my first motorhome the Adria Twin Supreme SPB from here although a long way from Norfolk I was lucky enough to get a dealer ordered vehicle so haven't had the wait that many have had! I dealt with Nigel who was fantastic and also Jason who did the vehicle handover. I'm really pleased with the vehicle and had a few trips already. TMD is a great company and it's a shame they aren't a bit nearer to me.
Nick Harper - NorfolK - May 2021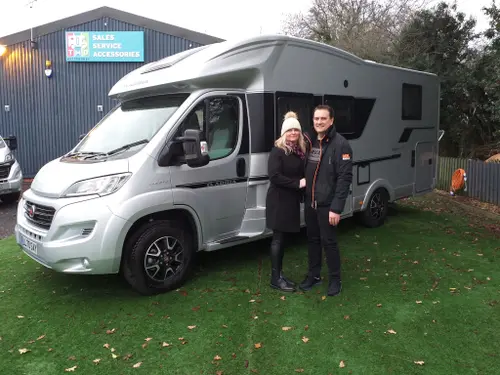 First Class
Delighted with the fit and finish of our new motorhome, the service and people at TMD, especially Nigel who dealt with all our order and handover, were first class.
Jonathan & Lindsay Fair - Lanarkshire - December 2020
Amazing Product! Recommended 200%
Many thanks to you and your team for a pleasurable experience in buying our first motorhome.It was marvellous to have a no pressure sales environment which certainly endeared us to purchasing with you .We have recommended you to friends and family as the business to deal with and look forward to further purchases with you in the future., A 5 star company!
Regards
Andy and Carol.
Mr And Mrs Gough - Wolverhampton - November 2020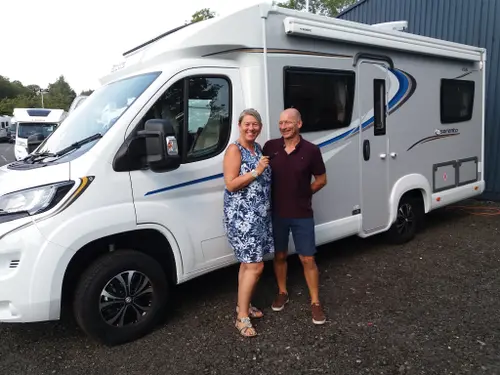 Customer service we received was amazing
I would like to say a big thank you to Nigel at The Motorhome Depot,his help and knowledge was a big help to us making the right choice of Motorhome. The customer service we received was amazing. We can't wait to start our journeys. We would definitely recommend buying from The Motorhome Depot Wythall.
Mr & Mrs Sinton - Bromsgrove - August 2020
Highly recommended
I don't care it's raining I am going to play in it anyway. Spanking new @adria_uk Twin Supreme collected today from Jason @ The Motorhome Depot Redditch and highly recommended they are. Immensely helpful (& patient). I would recommend everything customer service, knowledge even the coffee.
Karl Raw - Birmingham - August 2020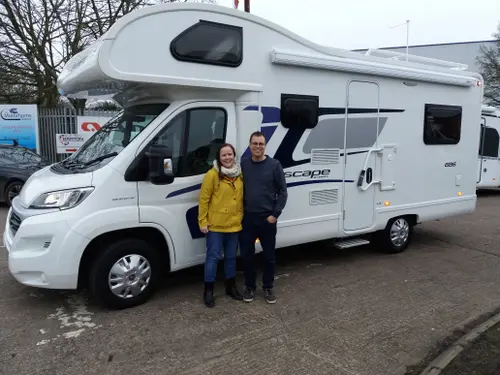 Thank You
Thank you Nigel for all of your help…and patience 🙂 we can't wait to head off on our travels!
Graeme & Hannah - Warwickshire - February 2020
Really pleased
Had its first wash today ! And it has had its first trip with us all going to Winterton on Sea last week. Ideal for dogs, Harry had a 360 degree view of all the goings on! We all had plenty room to move about as well Really pleased with it.
Thanks again.
Mike and Karen Robinson - Cambridgeshire - January 2020
Cheers from a very happy Les and Mal.
Thanks so much to Nigel and all the team at the Motorhome Depot. We are nicely settled in at Chapel Lane site, had tea and chocolate biscuits, Solo sleeping soundly on his rug, now planning our trips in Lizzy Lou to the sun. Hope you find good people to look after Peggy Sue. Soon we'll open that lovely hamper and the Prosecco Cheers from a very happy Les and Mal.
Les and Mal Madell - Dorset - January 2020
We felt no pressure
Our first visit was greeted by friendly staff and we were invited to look at our leisure and felt no pressure . We have subsequently purchased our first motorhome from them. The hand over was comprehensive and very informative. We have subsequently telephoned for some further information and our enquiry was dealt with promptly and efficiently.
Mr & Mrs Hulewicz - Oxford - January 2020
We would highly recommend this dealer
We recently purchased a Burstner Lyseo 680D, Nigel and Paul were courteous and very helpful in our decision to purchase this Motorhome, they offered good sound advice.
This is our second purchase from Motorhome Depot, very satisfied with the excellent service we received, we would highly recommend this dealer, Handover was good and they dealt with small changes requested efficiently. The whole process from initial enquiry to the vehicle handover was very sound and professional.
Malcolm and Shirley Starreveld - Norfolk - November 2019
The customer service was excellent
We bought our new motorhome from MHD and we are thrilled. The customer service was excellent. Jason carried out our hand over and did a very thorough job. Really nice bloke with a fountain of knowledge. Thank you x
Sue Wilde - Wednesfield - November 2019
Willing to go that extra mile
"We bought our Adria Coral Supreme 670 SL from The Motorhome Depot in January this year.
We are just completing our first Adria Club Continental Rally with 37 other Motorhome (and 3 Adria caravans) owners. Frequently we have heard on this trip, how pleased people have been with the service they received from The Motorhome Depot.
Paul and his team sold us more than a motorhome – they joined us up with the Adria Club. We now have many like-minded friends who we will see again on future rallies. A whole sociable lifestyle is emerging from our decision to buy an Adria from Paul who, along with Nigel, Jason, Javis, Bethan, Scott and others are always willing to go that extra mile to ensure we all enjoy driving our new home on wheels, making new friends and building strong memories."
Chris Watts - Worcester - October 2019
Great friendly team
Great friendly team that made the transition from our old van to the new so easy! From the moment we arrived in reception until we were waved off everyone was lovely. Thanks for all your help Jason (and more bike adventures!), also Paul and the rest of the team. Thanks too to the helpful technicians that sorted and advised.
We are very happy with our new van – name to be decided upon yet. Got back to Dorset safely and are now in the process of filling every nook and cranny. We're looking forward to many adventures here and abroad in our new home on wheels.
Mrs Val Midmore - Weymouth - May 2019
Would highly recommend the Motorhome Depot
A warm and welcoming company can't do enough for you Nigel looked after us all the way through buying our second motorhome would highly recommend the Motorhome Depot if you looking for a motorhome you won't be disappointed.?
Tony Brookes & Kathleen Daly - West Bromwich - May 2019
This company is highly recommended
New Adria Coral bought! Very nice! Hand over complete! Telly swapped, off we go, no wait, better get the insurance changed! Oh no, we need a tracker, no problem they said, 30 mins later! Fitted, insured and off we go!
Great service, pre sale, during sale and after sales! If you're buying, this company is highly recommended by me, Tina and Bela! Thank you all!
Bob & Tina Symons - Gloucester - April 2019
Superb staff
Superb staff no job, request, question too much!!! Extremely helpful, thoughtful and genuine people who couldn't have made the process easier. A big shout out to Paul who put up with my endless visits and gave up his day off to make our dream come true! Would highly recommend the company.
Alix Oldfield - Redditch - February 2019
Couldn't be more happy
Drove up from Plymouth to view my Campervan, was a bit worried about dealing with someone so far away, would the service be done in specifications, was the timing belt and coolant pump changed, how good the warranty cover is ect,(hopefully won't be required) but Jason and Paul kept in touch, it was all ready on handover day, I took off to Malvern And camped for six days to get to know it, couldn't be more happy everything worked as it should, they are a family run firm and have a good reputation, also appointed dealership for some well known brands, the Van itself is a pleasure to drive, would highly recommend them, five stars worthy.
Darren Jones - Plymouth - December 2018
A pleasure to do business with
Many thanks to Nigel, Jason and Paul of the Motorhome Depot, Redditch for part exchange and purchase of new Sun Living S70SC. A pleasure to do business with you and recommended for excellent customer service. Kind regards, Delia & Paul.
Paul Isaac - Bucks - November 2018
Excellent service throughout and a good deal
Excellent service throughout and a good deal. Very professional and friendly personal service from Paul, Nigel and the team.
Really thorough final check of our lovely new Adria, with last minute additions readily done for us.
Very highly recommended – the best we've come across.
Geoff Soul - Shreswbury - September 2018
The Motorhome Depot Redditch bent over backwards
Well what a day, got the new van & nicely settled on on site. Talk about hard work changing over everything & sorting out all the paperwork & learning how everything works. Had the last van for four years & didn't realise how much stuff we had accumulated. Really loving the space in the new van compared to our old van Woodie, who we shall really miss. Anyway time to move on & hopefully create many more happy times in Adrian ? Yes I know it's a strange name but fits nicely with Adria. Big thanks to Jason, Scott & the team at The Motorhome Depot Redditch who bent over backwards to sort out our every need today.
Ken Pumphrey - West Sussex - July 2018
Absolutely brilliant
Well we brought a motorhome today it was a older model and our first one the customer service was absolutely brilliant Nigel looked after us all the way through this keeping us informed and a great gesture with the flowers thank you Nigel I would recommend this company for any one buying a motorhome
Tony Brookes - West Bromwich - July 2018
From start to finish excellent service
From start to finish excellent service, with a special mention to Nigel for arranging everything for us, we've had dealings with two other motorhome dealerships and wish we had found you sooner, the other two don't come anywhere close Thanks again, can't recommend you highly enough .
Janet Taylor - Birmingham - May 2018
Extremely helpful friendly staff
Extremely helpful friendly staff. Professional technicians in the workshop who carry out all work to the highest standards, they are approachable and happy to give advice. We had our motorhome booked in for a water leak after purchasing it from another dealer. They did a fantastic job and nothing was too much trouble. They also have a great new showroom to look around new models. Will definitly be using them for the MOT/service and habitation checks when it's due.
Mark Reynolds - Redditch - February 2018
What a superb company to buy a campervan from
What a superb company to buy a campervan from. From the initial response to my email by Paul in early December, through the first visit to Redditch to look at the van, to the collection last Friday. The whole team were very genuine and Paul was outstanding, givingme time to have a good look around and answering all of my novice questions with a lot of patience.The technicians, Scott and Carl, really know their stuff sorting out minor niggles willingly and quickly. Finally the handover by Jason was thorough.I was really impressed by Paul and his team – they just came across as really decent blokes.We had done a fair bit of research and had been in contact with a number of other motorhome retailers geographically closer to us than Redditch, but we are very glad to have chosen these guys to buy our Adria Twin even though we had to travel from North Yorkshire. They also gave us a great deal.
Thanks again.
John Evans - North Yorkshire - January 2018
The motorhome depot could not be more helpful
The motorhome depot have taken on our warranty work for our brand new motorhome which was purchased from another dealer who were beyond hopeless after they had made the sale (Brownhills). The motorhome depot could not be more helpful and have twice helped us with problems when we have arrived without an appointment. We are yet to have all our work completed whilst we wait for specific parts but the team have been fantastic throughout. I just wished we had purchased from them in the first place.
Sophie Vann - January 2018
Enthusiastic, knowledgeable and not pushy
I went on a miserable afternoon with my wife and granddaughter to have a look at a New Motorhome. These people KNOW how to treat their customers existing and potential. The young guy out of the workshop was enthusiastic and knowledgeable and not pushy. We're going to visit these people at the Motorhome show in February and give them the chance to sell us a deal.
Terence Smith - January 2018
Enjoyable handover
Many thanks to Paul, Jason and everyone at the Motorhome Depot in Redditch for making the purchase of our new Adria Matrix(aka mad mavis) very easy. Enjoyable handover and thanks for the bubbly. P.s Make sure you look after Rapid Rita she was a great van. Now breaking in Mad Mavis!
Louise Kumar - January 2018